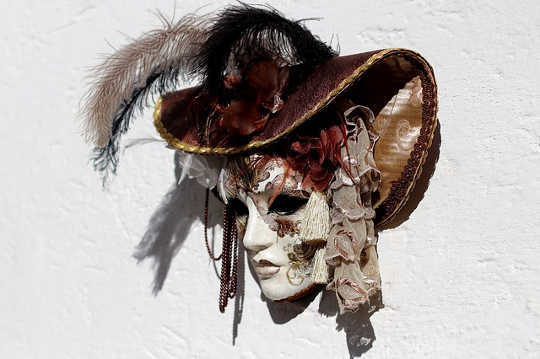 Image by Franz W.
As women at midlife, we understand our priorities. We've demonstrated how good we are at problem-solving, over and over again. Many of us find midlife to be a time of reinvention, starting new careers or businesses, or diving into new volunteer endeavors.
What these reinventions tell me is that at midlife, we've only just begun.
Keep in mind that while there are general shared realities of menopause, every woman has her own individual experience. You may hardly notice, or you may experience the entire array of symptoms. Perhaps your symptoms started at 38, or perhaps you're just noticing changes at 55. Symptoms may ebb and flow, or be fairly present, for 5 years or for 12. It's all normal, and the most bothersome symptoms are temporary. You'll get through this transition, because women's bodies are amazingly adaptive and highly complex, and you understand how to take care of yours.
If you're just approaching or entering perimenopause, you're in a terrific position to set yourself up for your healthiest menopause transition. By acting now, you can establish the lifestyle and habits that will be a solid foundation for navigating "the change" as it comes. By maintaining or achieving the weight you want to be, you'll minimize metabolic battles in your future. By tuning in to your body now, and even starting your health journal, you'll have a solid context within which to identify and address symptoms as they might occur.
---
Get The Latest By Email
---
Making Ourselves and Our Health A Priority
If you're further along in the transition, you can still take the reins! Whatever our starting point, all we need to do is make ourselves and our health a priority, worthy of attention, planning, and the time it takes to act on what we know.
We don't need to make this transition alone. I know many of us never heard menopause stories from our mothers. Too much of what we see around us is hot flash jokes of many varieties. I'm seeing the media tide turning, though, with more coverage of women like me and like you, empowered not regardless of, but because of, our age.
I'm seeing more articles about the experience and smarts we bring to the table and about the freedom and confidence with which we're living:
♥ According to Claire Gill, founder and CEO of the National Menopause Foundation: "Women at midlife are having a moment right now."
♥ In "The New Rules of Middle Age, Written by Women," Candace Bushnell says, "We're not going to do our 50s the way everyone's telling us we're supposed to."
♥ "Changing the Game of Aging " is the subject line of an email from NextAvenue.
♥ In "How I Found My Midlife Mojo," Kimberly Montgomery says, "My world feels like an endless list of possibilities."
Join the Conversation
Be sure to talk to your health care provider. When patients speak up, practitioners are motivated to learn more so we can have answers. When you tell us your stories, we understand the impact on real people's lives of topics we may otherwise view through the lenses of research statistics and recommended treatment protocols. I vividly remember a patient describing the effect of her loss of desire on her self-image and her marriage and how it motivated me to press for therapies that could help.
Doctors can advocate for you (and you can advocate for yourself) with pharmaceutical companies, which have begun to make progress in developing therapies for menopause symptoms and conditions but need to do more. They can make clear (and you can, too) the need for more medical research specific to women of all ages and also specifically in the stages of perimenopause and menopause. There needs to be more understanding of the role of the absence of hormones in the last third of our lives and of the risk-and-benefit equations we're all calculating to decide how to manage our health.
This advice doesn't mean you should take responsibility for educating your health care provider. Your OB/GYN may have been terrific during yearly exams or at the births of your children, or you may appreciate how supportive your general practitioner was when diagnosing your appendicitis. That appreciation doesn't mean, however, that they're the right doctor for what you need now.
You deserve knowledgeable menopause care from someone who's well educated in the physical and psychological changes that come with this transition. With a menopause care provider, symptoms are likely to be more readily understood and the role of menopause taken into account. And if you're at all uncomfortable talking to them about symptoms like vaginal dryness or painful sex, that's another sign that it's time to find a health care provider who will be on your side.
If you have a partner, please open communication about menopause. It's important for them to understand how your life, health, and body are changing and how you're reacting to it. If you don't have the conversation, your partner may make assumptions to fill in the gaps. You've committed to each other; there's every reason to believe that your partner will be grateful and relieved to be by your side rather than in the dark.
Every woman's experience is unique, but we can learn from one another, too. One friend may have hot flashes more than you do; she's an ideal teacher of countering tactics. You may have developed some memory cues that work especially well; my guess is that some of your friends would be happy to practice them.
Be open with friends about your need to up your exercise routine, and see which of them would like to join you for weekend hikes, nights out dancing, a yoga or tai chi class, or an afternoon bike ride. Share healthy cooking tips, or even develop a shared supper group so you can exchange recipes as well as laughter.
Finally, please engage younger women—your daughters, nieces, colleagues, or neighbors—in understanding menopause as a natural part of life. Eventually, I hope, this part of our human development will be included in our early health education along with puberty and reproduction. The earlier we understand our bodies, the earlier we can begin to manage our health.
You will manage menopause, and you will prevail. We can take charge of our habits and our health. We can find the resources we need to navigate the transition. We can advocate for ourselves and one another! We will care for our amazing, adapting bodies, knowing we are, at midlife, wise, beautiful, and deserving of happiness.
©2020 by Rockridge Press. All Rights Reserved.
Excerpted with permission of the publisher:
Rockridge Press. an imprint of Callisto Media.
Article Source
Fearless Menopause: A Body-Positive Guide to Navigating Midlife Changes
by Barb DePree MD

From navigating the four main menopausal stages to explaining the hormonal changes that can affect your mind and body, this essential menopause guide delivers straight talk and practical strategies you can use to manage your health and happiness during this transitional time. Never fear―Fearless Menopause is here to explain what to expect during your "new normal" with kindness, empathy, and compassion.
For more info, or to order this book, click here. (Also available as a Kindle edition.)
About the Author

BARB DEPREE, MD, has been a gynecologist and women's health provider for 30 years and a menopause care specialist for the past decade. She was named the 2013 Certified Menopause Practitioner of the Year by the North American Menopause Society for "exceptional contributions" to menopause care. Find out more at MiddlesexMD.com and at askdrbarbdepree.com/
Video/Presentation with Barb DePree MD: The Biology of Aging