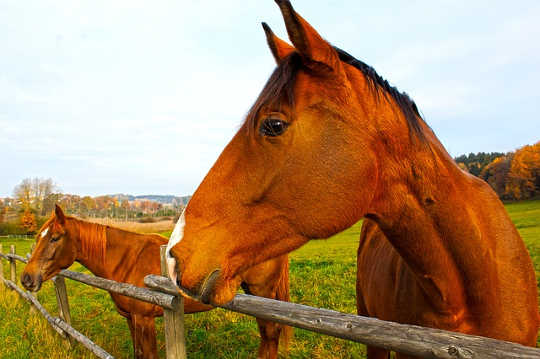 Image from Pixabay
(Editor's Note: While this article deals with natural healing for pets and animals in general, its tenets can also be applied to human illness and healing.)
By the standards set by modern medicine, healing shouldn't work. However, we know that it does. We don't quite understand how or why, but when we witness the miraculous results of simply the laying-on of hands, of herbal remedies or of placing a crystal near our pet, we become converted to trusting in the old ways of medical treatment.
Our ancestors didn't have access to the medicine we have today; they relied upon natural sources to provide their healing, be it plants or trees, earth or clay, voice or hands. Modern medicine has progressed greatly into the science we know today, and great leaps have been made in veterinary medicine which have ended much suffering and saved the lives of our beloved animal companions. Consequently, the old ways were pushed aside in favor of new conventional treatment. However, pet owners have begun to realize that orthodox medicine alone often only treats the symptoms and not the root cause of illness, something which holistic medicine works to provide.
Generally, people who use conventional medicine usually do not seek treatment until their animal becomes ill. Within conventional medicine there is little emphasis on preventive treatment. Drugs, surgery, and radiation therapy are among the key tools for dealing with the symptoms of illness and certainly do not address the cause.
---
Get The Latest By Email
---
In contrast, holistic animal medicine focuses on preventing illness and maintaining the health and well-being of an animal. It views good health as a balance of all body systems: mental, emotional, and spiritual as well as physical. In complementary medicine all aspects of an animal are seen as interrelated; a principle called "holism," meaning a "state of wholeness." Disharmony in the above aspects of being is thought to stress the body and perhaps lead to sickness.
Illness and Disease: An Imbalance of the Mind and Body
Natural animal medicine following a holistic approach views illness and disease as an imbalance of the mind and body that is expressed on the physical, emotional, and mental levels of an animal. Although allopathy does recognize that many physical symptoms have mental components (for example, emotional stress might promote an animal to demonstrate negative behavioral changes), its approach is generally to suppress the symptoms on both physical and psychological levels. Natural medicine assesses the symptoms as a sign or reflection of a deeper instability within the animal, and subsequently tries to restore the physical and mental har­mony which will then alleviate the initial symptoms.
Holistic medicine recognizes that the human and animal body is superbly equipped to resist disease and heal injuries. But when dis­ease does take hold, or an injury occurs, the first instinct in holistic healing is to see what might be done to strengthen those natural resis­tance and healing agents so they can act against the disease more effec­tively. Results are not expected to occur overnight. But neither are they expected to occur at the expense of dangerous side effects, which is often the case with orthodox treatment.
Holistic healing treats the underlying cause of illness through a variety of natural healing methods, which are applied with empathy and compassion and are often noninvasive. Its focus is to look at all aspects of the animal and be open to using a variety of treatments if necessary, along with conventional veterinary medicine. During a holistic treat­ment, communication between the animal, its owner, and the therapist is emphasized.
Implementing Holistic Energy Medicine Into Modern Medical Practice
I have practiced as a professional animal therapist since 1996 and have worked alongside many vets, teaching them how holistic energy medicine can be implemented into modern medical practice. I also receive many client referrals from veterinary practices. I recognize that the most modern veterinary techniques such as ultrasound, sophisticated laboratory tests, and surgical procedures are necessary in caring for ani­mals.
Even though I wholeheartedly trust complementary medicine one hundred percent, my veterinary surgery is always the first point of con­tact when my own animals are sick. Without their experience in diag­nosis techniques, I would be unable to treat my animals effectively and efficiently. Complementary medical practitioners do not diagnose illness.
More vets are implementing holistic methods of healing, and many of my graduates are continuously finding themselves being offered practice rooms within veterinary surgeries across the UK. Animal medical profes­sionals, pet owners, and the animals themselves are experiencing holistic energy medicine working, often where conventional medicine has not. Chronic debilitating illnesses, common ailments, aches, pains, and every­thing in between have responded to energy medicine practices. Energy medicine is shedding light on the true nature of health and disease and offering solutions to seemingly intractable animal health problems, often leaving owners more attuned to their animal than they thought possible.
Memo­rable For All The Wrong Reasons
The 10th June 1995 was meant to be a happy celebration, as it was the day of my first wedding anniversary; however, it became a memo­rable event for all the wrong reasons, because at the age of twenty-four, I suffered a stroke.
The neurologist concluded the stroke was probably stress-related, as I was healthy in every other way. It dawned on me that most of the stress came from outside of me, from other people.
Warned I'd have another stroke if I dared to refuse orthodox med­ication, my natural, strong-willed nature steered me to look at other methods of bringing myself back to wellness through holistic healing, rather than relying solely on prescription drugs.
I knew my recovery was going to be a lengthy process, but it was a journey that I had to do alone. I chose the journey without medication. I retreated inwards, preferring to spend much of my time alone except for the company of animals, especially my rescue cat, Sophie. The time in recovery allowed me to view all areas of my life objectively. Upon reflection, my recovery can only be likened to a death—the death of my old self—that led me to a brand-new awakening, one of healing myself, others, and animals.
Healing Animals
So, for over twenty years I've been healing animals. Along with domestic pets and livestock, I've treated llamas and alpacas, snakes, camels, and even a marmoset monkey through my own system of healing "Animal Magic©." From the start my reputation as an animal healer grew, and others wanted to apply healing to their own animals.
Holistic treatment for animals has become more acceptable and trusted over recent years, and because of this I have trained vets, veteri­nary nurses, behaviorists, horse trainers, well-known people within the media, and even GPs. I have had the pleasure of teaching such diverse individuals from around the globe, all with one shared passion: animal well-being. Many of my graduates now work within veterinary prac­tices throughout the world.
I've walked my personal path over many trials of life, yet animals have always found me at crucial low moments and often launched themselves into my life. There were those that were in need of rescue, some that needed healing, others that required understanding, and many that lived in fear and torment. All of the above connections added something extra special to my life, be it guidance, wisdom, or kinship.
Pets continue to be ever popular in our society, yet the reasons we share our lives with them is changing. No longer are our dogs, cats, and horses "working" for their keep; they have become trusted companions and family members. They enjoy the comforts of our homes, and in recent years the benefits of improved veterinary and complementary health care.
The Holistic Animal
Holistic animal therapy looks at the whole animal, not just isolated parts. It focuses on resolving the cause and the problem, not just allevi­ating symptoms. Overall improvement of the quality of life of the ani­mal is the goal. Holistic approaches that I offer and teach professionally include hands-on healing though the Animal Magic Healing System, Reiki Healing, Arbor Essentia, Bach Flower Remedies, Crystal Therapy, and Animal Communication.
A major key in holistic care is that as a professional therapist, I look at the bigger picture of an animal's health and well-being. I compile in great detail all the information given to me by an animal's owner, with the background of the animal and their medical history being just one part of it. I look at the environment the animal came from and where it is now in relation to this, any recurrent problems and behav­ioral patterns, and the pet's relationship with its owner and other fam­ily members. From this information I can, along with the owner, work to pinpoint causes and develop an appropriate and feasible treatment plan for recovery and wellness. The plan may include one or several approaches, but optimum health is our main goal.
It is my heartfelt wish for everyone to begin to understand, inter­pret, and heal the energy emanating from our animal friends, and to tap into its richness and purity. Connecting with animals isn't just about taking them for a hack or a walk, feeding them, or praising them when they perform tricks; it goes much deeper than this. All animals share an unencumbered and enlightened energy with us. The natural vibration of animals encompasses unconditional love; their spirit is untainted, and this teaches us how we too can live in purity, with compassion and integrity. When healing is offered to them, animals accept, graciously.
Animals have no preconceived ideas about how holistic healing will integrate in their lives; they merely accept the healing offered with open­ness and with gratitude. They do not judge our intentions or try to pick apart how the energy works; neither are they ungrateful for our efforts.
Animals intrinsically know that being part of the loving energy of heal­ing holds the key to a deeper connection with the provider. Moreover, if the healing comes from the ones that love and understand them, greater achievements can be made. Through an animal's ability to be open to us and to healing love comes a feeling of closeness and comfort; this is empathy at its very best.
We have progressed greatly as a nation in recent years and animal healing and related holistic therapy is at the forefront of the lives of many animals. However, healing is not an alternative to veterinary treatment. Holistic healing is totally compatible with orthodox medicine, and I have witnessed miraculous results through combined efforts.
Healing Energy for All
I was not born with a special "gift," nor was I born into a family of healers or gifted physicians. I was incarnated into an ordinary body and have not been without many personal trials and tribulations. Through all of this adversity and hardship the one thing that has not diminished is my link with the animal kingdom. Sending and receiving loving energy to animals, and interpreting the healing message, is something that can be learned by anyone who attempts it with a pure heart and open mind.
I believe that anyone with an open heart and mind can achieve great things within the realm of animal healing. You need not possess a "gift"; we all have the gift if we just tap into a part of ourselves that has lain dormant for too long. Healing is a reawakening of mind; it's about learning to trust our own spirit and being grateful for our intuition. It is believing that great things are possible. They are—I have seen some near miracles in my work since I first helped heal Timmy nearly forty years ago.
Discovering Wholeness
When I said to my mum at the age of seven that I was put on the planet to help care for the animals, little did I know that nearly forty years on I would be doing just that; not only as a healer and therapist, but also teaching others how to heal compassionately and communicate with purity. Timmy, the black semi-feral rescue cat that my dad brought home one day from work, taught me to understand, to listen, and to heal. He was instrumental in my whole journey in the realm of healing.
It is my desire to help you, the reader, rediscover a part of yourself that has remained hidden or undiscovered until now. It is also my aim to assist everyone who shares a true passion for animal wellness to harness the universal energy that links us all together.
©2019 by Niki J. Senior. All Rights Reserved.
Excerpted with permission. Published by
Llewellyn Worldwide Ltd. (www.llewellyn.com)

Article Source
Animal Healing: Hands-On Holistic Techniques
by Niki J. Senior

Providing in-depth descriptions and case studies that illustrate the healing modalities, Niki J. Senior sheds light on the true nature of animal health and disease. Through ground-breaking methods and exercises, she helps you use gemstones, crystals, flower essences, and other natural remedies to effectively heal your animal. (Also available as a Kindle edition.)
For more info and/or to order this book, click here. Also available as a Kindle edition.
About the Author

Niki J. Senior (Norfolk, United Kingdom) has taught professional animal healing courses and animal therapy training since 1997. She was awarded training school status in 2010 and offers some of the only diploma-level training courses in animal therapy available in the UK. She also created AniScentia, a unique animal therapy modality, and Animal Essentia™, a complete professional practitioner training course. Visit her online at AnimalMagicTraining.com.
Video: Niki Senior Interview - Animal Magic: