Removing polyps during colonoscopy can not only prevent colorectal cancer, but also reduce deaths from the disease for years, according to a new study.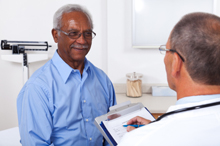 Colorectal cancer is one of the most common cancers in both men and women nationwide. In 2012, more than 143,000 people in the United States will be diagnosed with cancers of the colon and rectum. Over 52,000 people will die from these cancers.
Screening tests like colonoscopies—in which a doctor examines inside the rectum and colon using a long, lighted tube called a colonoscope—can detect early-stage colorectal cancer before symptoms develop. rly detection is important because treatments are more likely to be successful for early- rather than late-stage cancer.
Colonoscopy also allows doctors to remove any abnormal growths they find, including polyps. Polyps are growths on the inner wall of the colon or rectum that are common in people over age 50. Most polyps are benign, but some (called adenomas) can become cancer. A previous study by researchers in the National Polyp Study found that removing adenomas reduces the risk of developing colorectal cancer. However, the follow-up at that time wasn't long enough to show whether the reduced risk of cancer would translate into fewer deaths from colorectal cancer.
---
Get The Latest By Email
---
In a follow-up study, researchers led by Drs. Ann G. Zauber and Sidney J. Winawer at Memorial Sloan-Kettering set out to learn whether removing polyps by colonoscopy ultimately translates into fewer deaths from colorectal cancer. Their work was funded primarily by NIH's National Cancer Institute (NCI). New England Journal of Medicine.
The team examined data from over 2,600 patients who had adenomas removed during participation in the National Polyp Study. The average follow-up time since surgery was about 16 years, and as long as 23 years.
The researchers found that there were 1,246 deaths in the adenoma removal group overall. But only 12 of the patients had died from colorectal cancer. Among the general population, over 25 patients in a comparable group would have been expected to die from colorectal cancer. This suggests that adenoma removal reduced the chance of death from colorectal cancer by 53%.
Our findings provide strong reassurance that there is a long-term benefit to removing these polyps and support continued recommendations of screening for colorectal cancer in people over age 50," Zauber says.
These results show that adenomas identified and removed during colonoscopies include some that have the potential to progress to cancer and cause death. Randomized controlled trials—the current gold standard for clinical trials—are now underway in the United States and Europe to definitively show whether colonoscopy screening reduces mortality in the general population.
Article Source:
http://www.nih.gov/researchmatters/march2012/03052012colonoscopies.htm