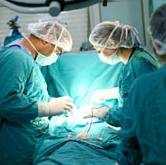 A new study in mice suggests that several days on a restricted diet may help the body better cope with the stress of surgery. The findings point the way toward potential strategies for reducing surgical risks in people.
When blood flow to an area stops during surgery and is then restored, the returning blood supply can cause tissue damage and dangerous inflammation. This process, called ischemia reperfusion, can lead to stroke, heart attack and other serious medical problems.
Past studies have found that dietary restriction—limiting food intake without causing malnutrition—can boost the body's resistance to the stress of ischemia reperfusion. A team led by Dr. James Mitchell and Wei Peng of the Harvard School of Public Health set out to further investigate. Their study—partly supported by NIH's National Institute on Aging (NIA) and National Institute of Diabetes and Digestive and Kidney Diseases (NIDDK)—appeared in the January 25, 2012, issue of Science Translational Medicine.
To mimic the effects of ischemia reperfusion after surgery, the researchers used microvascular clamps to temporarily stop blood flow in or out of the kidneys. Mice fed a protein-free diet for 6 days to 2 weeks before surgery were found to have better kidney function and a higher survival rate than animals fed a normal diet of equivalent calories.
The scientists next tested whether limiting certain essential amino acids—the building blocks of proteins—could produce similar effects. A diet deficient in any of the 3 amino acids they tested improved survival. This finding suggested that the body's ability to detect an amino acid deficiency might be crucial to the protective effect of a limited diet.
---
Get The Latest By Email
---
To test the idea, the researchers focused on a protein, Gcn2 kinase, that cells use to detect amino acid depletion. The scientists found that, in contrast to normal mice, mice deficient in Gcn2 kinase weren't protected from kidney damage when fed a diet without the essential amino acid tryptophan.
To see whether the benefits of a tryptophan-free diet were sex- or organ-specific, the scientists tested female mice instead of males, and liver damage instead of kidney. They found similar results. However, when they next looked at gene expression, they saw different genetic pathways activated in the kidney and liver. Further investigation showed that Gcn2 kinase was causing systemic changes in circulating immune system cells.
Finally, the researchers tested a drug called halofuginone, which is known to act through the Gcn2 pathway. They found that it mimicked the effects of amino acid deprivation. This result raises the possibility that similar drugs might one day be used before surgery.
The researchers would next like to test whether dietary restriction can work as well at lowering surgery-related risk in people as it does in mice. They're now in the early stages of planning a clinical trial of patients on protein-free diets before surgery.
"Food restriction as a way to increase stress resistance may seem counterintuitive, but in fact our data indicate that the well-fed state is the one more susceptible to this kind of injury," Mitchell says.
—by Harrison Wein, Ph.D.


Related Links:
Considering Surgery?:
Article Source: http://www.nih.gov/researchmatters/february2012/02032012surgery.htm