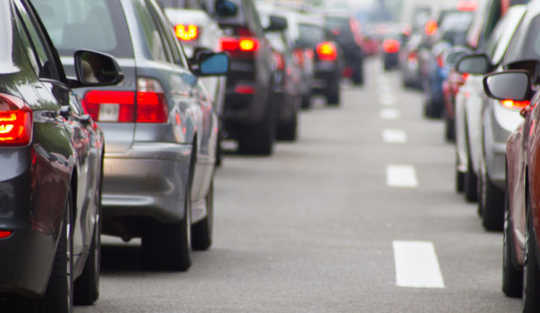 "My commute is like a second job, and it might be killing me." says Kimberly Mas of Vox. Hyperbolic? Not really.
It's Not You. Commuting Is Bad For Your Health
Kimberly Mas, Vox

Millions of Americans commute to work. It can be a stressful journey that involves cars, trains, bicycles, and even airplanes. This video breaks down the pros and cons of long commutes -- it's by someone who actually has a painfully long one.
Vox's Kimberly Mas commutes to Manhattan almost every day. She drives her car to the train station, takes the train to the subway, and finally rides the subway to the Vox office. She's had this routine for a long time and she always wondered what kind of toll it's taking on her.
Her reporting shows that, while commutes may just be an unavoidable part of life for many Americans, they don't have to be all bad, all the time.
American Journal Of Preventive Medicine
http://www.ajpmonline.org/pb/assets/raw/Health%20Advance/journals/amepre/AJPM%20Jun2012%20Hoehner%20Commuting%20Distance%20FINAL%20_2_.pdf
Researchers studied 4,297 residents who lived and work ed in eleven counties in the Dallas-Fort Worth or Austin, Texas metropolitan areas. Commuting distances were calculated with ArcGIS9 software and measured the shortest distance from home to work along the road network. CRF, body mass index circumference, fasting triglycerides, fasting plasma glucose, high-density lipoprotein (HDL) cholesterol, and blood pressure, were measured. Self-reported participation in moderate to vigorous physical activity over the previous three months was also assessed.
The study found that people who drove longer distances to work reported less frequent participation in moderate to vigorous physical activity and decreased CRF, and had greater BMI, waist circumference, and blood pressure. The association remained when physical activity and CRF were adjusted for, although to a lesser degree for BMI and waist circumference. Those who commuted more than 15 miles to work were less likely to meet recommendations for moderate to vigorous physical activity and had a higher likelihood of obesity. Commuting distances greater than 10 miles were associated with high blood pressure.
Dr. Hoehner explains that longer commutes may replace participation in physical activity, given the association between commute time and physical activity and CRF, and the lesser association with adiposity after adjustment for physical activity. "At the same time, both BMI and waist circumference were associated with commuting distance even after adjustment of physical activity and CRF, suggesting that a longer commuting distance may lead to a reduction in overall energy expenditure," she notes.
The Age Of The Autos Using Gas Is Ending
The Interstate Highway System was one of America's most revolutionary infrastructure projects. It also destroyed urban neighborhoods across the nation.
Related Books
;maxresults=3}